NGC Security Center
Although the vast majority of NGC holders in the marketplace are genuine, there are occasionally reports of counterfeit or tampered NGC holders. To learn how you can better protect yourself from counterfeit or tampered holders, explore the resources below.
How NGC
Protects You
NGC Holder and Label Security Features
The NGC holder and certification label employ advanced security features to protect against counterfeiting and tampering. Click to learn more >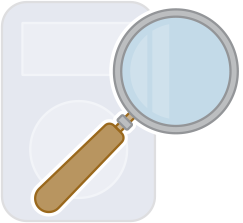 Verify NGC Certification
Additionally, since October 2008 nearly every coin that NGC has graded has been imaged in the NGC holder prior to being returned to the submitter. These images, along with NGC's certification data, can be helpful to assess an NGC holder's authenticity. Images and certification data are available for free in the Verify NGC Certification tool on the NGC website and well as NGC's mobile app.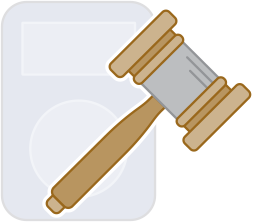 Legal Efforts
NGC will consider all available options to pursue those who counterfeit or tamper with NGC holders and violate NGC's intellectual property rights.
Identifying Fraudulent Holders
Enter the unique NGC certification number in the Verify NGC Certification tool to compare the images taken by NGC to the coin that you are considering for purchase. Compare the coins, labels and holders to verify that they match. Note the numerous differences between the coins, labels and holders below.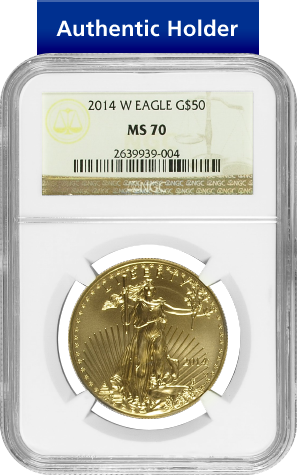 Obverse
Obverse
Reverse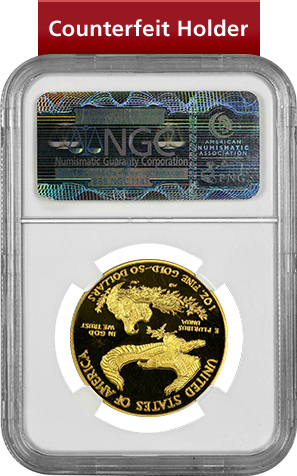 Reverse
What to Do When You Encounter Fraud
The simplest way to avoid fraud is to only buy from an NGC Authorized Dealer or other dealers you trust. For a list of NGC Authorized Dealers, visit the NGC Dealer Locator.

If you have a counterfeit holder or see one for sale, contact NGC immediately at the email address or phone number below. Include as much relevant information as you can — high-resolution images, receipts, proof of payment, etc. — to help NGC conduct its investigation.

If you believe you are a victim of holder fraud, you should also immediately contact the seller and request a refund. If the seller does not provide a refund for a counterfeit or altered holder it may be liable for fraud. Please note that the NGC Guarantee does not apply to coins that reside in counterfeit or tampered holders.

NGC may be able to confirm the authenticity of an NGC holder by examining high-resolution images. In other cases, NGC may need to examine the holder at its office. If you send a holder to NGC and it is confirmed to be a fraudulent NGC holder, NGC will take high-resolution images of the fraudulent holder, remove the coin from the holder and return the coin with a letter stating that it was received in a fraudulent NGC holder along with the images taken of the holder. Under no circumstances will NGC return counterfeit or altered NGC holder parts.
NGC contact information:
NGC India Numismatic Services Private Limited
[email protected]
Helpful Links:
NGC Holder Types
NGC Label Types
NGC Guarantee

Add Coin
Join NGC for free to add coins, track your collection and participate in the NGC Registry. Learn more >